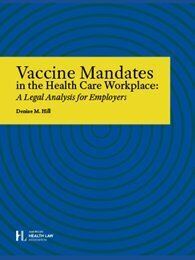 Jeanne's Contribution to Vaccine Mandates in the Health Care Workplace: A Legal Analysis for Employers 
Recently the American Health Law Association (AHLA) published the book
Vaccine Mandates in the Health Care Workplace: A Legal Analysis for Employers
by Denise M. Hill, MPA, JD, Associate Professor of Practice in Public Administration at Drake University, Des Moines, Iowa.
It is an honor that I have been recognized as a major contributor.
The book includes the following helpful information which is timely given the covid-19 situation:
Practical checklists on vaccine mandate policy considerations and key issues for organization decision-making
Employers' authority to mandate vaccination as well as health and safety obligations Preparation for potential covid-19 liability and lawsuits
Reasonable accommodation issues such as disability and religion Addressing employees' vaccination hesitancy
Federal law and guidance from agencies overseeing employers' legal rights and responsibilities regarding employee vaccination, including the Occupational Safety and Health Administration (OSHA), the Centers for Disease Control and Prevention (CDC), the Equal Employment Opportunity Commission (EEOC), and the Food and Drug Administration (FDA)
Future trends and recommendations
 
The book is available
here
.